Join us for Grizzelda's Taco Quest : 6 Weeks, 6 Tacos, $50 Grizz Gift Card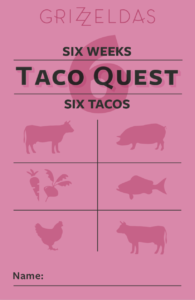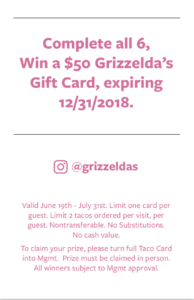 Weekday Features:
TUESDAY: Tacos & Tinis – 3 for $15 Tacos & $10 Mexican Martinis
WEDNESDAY: #WCW Benefiting Local Women's Charity : 
$8 Features
THURSDAY: Fajitas & Ritas – $20 Fajitas & 1/2 Price Grizz Mizz

*For parties of 18 or fewer, please book through the link below.
*Please note that parties of 6 guests or more will require a credit card to hold the reservation.  Should that reservation be cancelled within 24 hours of the reservation time, a fee of $20 per guest will be incurred.
*We do not allow outside Food & Beverage.  Should you decide to bring in an outside dessert, a $25 fee will be incurred. We appreciate your understanding.
*For parties larger than 18 guests, please contact us through our Events page.
Click here to make your reservation for up to 18 guests:
hours
dinner
Tuesday & Wednesday 5:00 PM – 9:00 PM
Thursday, Friday & Saturday 5:00 PM – 10:00 PM
brunch buffet
Sunday 10:30 AM – 2:30 PM
happy hour* 
Tuesday thru Friday 5:00 PM – 7:00 PM